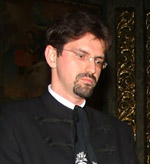 Mr Csaba Paskó was born in Subotica, on 25th April, 1975. After primary school, which he finished in Bajmok, he enrolled the Paulinum Theological Grammar School in Subotica, but studied music privately at the same time. His outstanding music teachers who helped and influenced his musical development were Ms Marta Kókai Deli, Ms Mária Székely, Mr József Miocs and Ms Gabriella Égető.
From 1994, while he was a student at the Theological Faculty in Pécs, Hungary, he was a private student at Jannus Pannonius Faculty, department of solo singing (in the class of Endre Pillári) and choral conducting (in the class of the renowned Hungarian professor Aurél Tillai, a ~Liszt Ferenc Award~ bearer).
From 1999 Mr Paskó studied sacral music at the Music Academy in Graz where he graduated in 2004. His final exams are choral music conducting and organ playing. His professors were Johannes Princ, conductor, Josef Doeller, choral conductor of the Cathedral in Graz and the organist Dr Johann Trummel.
In 2005 Mr Csaba Paskó obtained the academic title of Master of Arts (M.A.) in Graz, for performing Gregorian chorals and for conducting. His guiding professors were Dr Franz Karl Prassl and Josef Doeller.
Since 2000 Csaba Paskó, was chaplain of the basilica in Subotica, is a consecrated priest of the Ecclesiastic region of Subotica. In 2003 he took over music coordination and conducting in the basilica in Subotica.
In 2001 he became member of the International Association of Hymnology (IAH). In 2005 he founded probably the first Gregorian singing ensemble in this country. He is the conductor of the Philharmonic orchestra of Subotica upon invitation, the bearer of the project of the newly formed Department for sacral music operating within Music School of Subotica.
For his remarkable results in organising concerts and for his musical activities in Subotica altogether, Mr Csaba Paskó received the renowned Bodrogvári prize in February 2006, in Subotica. He was twice awarded a prize at the festival "Choirs among Frescoes" (Belgrade), in 2006 and 2007.